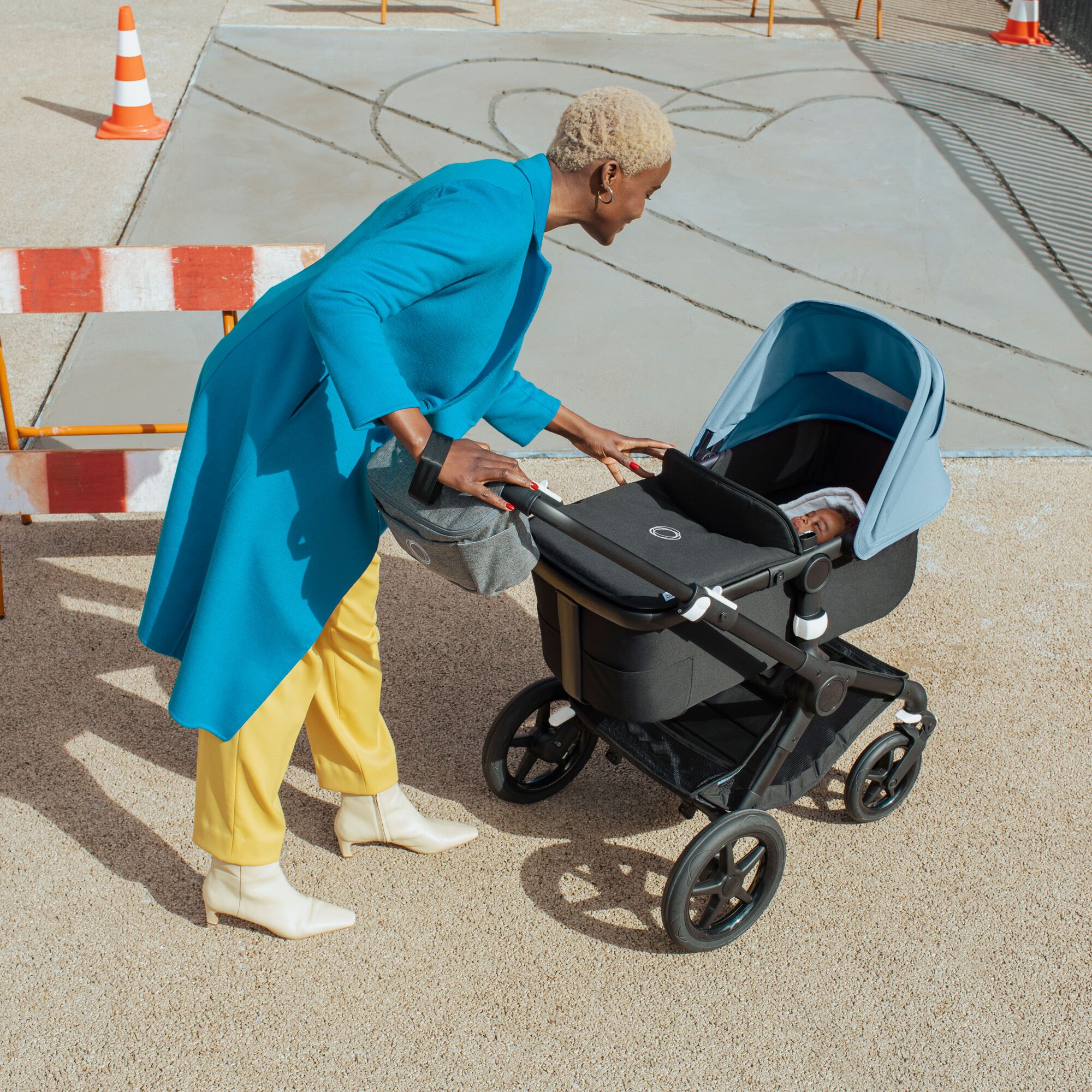 Bugaboo
Designed for discovery 
Bugaboo believes that you shouldn't have to go to a lot of trouble to discover a new world as a family. We design extraordinary products and solutions for parents that make spending time with your child wonderful, memorable and above all fun and pleasurable, no matter where you go.
Lees meer
Bugaboo

Bugaboo

Bugaboo

Bugaboo

Free shipping EU above € 39,-

Buy now, pay later with Klarna

The specialist in strollers

Excellent - Trustpilot
Bugaboo
The best price for your new Bugaboo
Designed for discovery 
Bugaboo believes that you shouldn't have to go to a lot of trouble to discover a new world as a family. We design extraordinary products and solutions for parents that make spending time with your child wonderful, memorable and above all fun and pleasurable, no matter where you go. Having started our revolution in the field of prams two decades ago, we're still continuing to innovate and expand our collection. That way, each and every product becomes even more comfortable and user-friendly than you could ever imagine. Which means you get to enjoy every moment of discovering the world together!
Bugaboo Fox 2
The pram for ultimate comfort The perfect balance between unsurpassed comfort, advanced design and ease of use. Ready for any terrain. The Bugaboo Fox 2 has been thoroughly tested and perfected for navigating busy streets and small spaces effortlessly. Like you have power steering on your pram. The large wheels and advanced central suspension create a smooth, stable ride for your baby, both in the cot and in the chair. Wherever you go, the suspension and premium materials of the Bugaboo Fox 2 offer ultimate comfort and optimal support. That means your baby takes longer naps, giving you more time to yourself.
Bugaboo Donkey 3
The pram that grows with your family Are you already dreaming about expanding your family? With the duo extension set (available separately), you can turn the Bugaboo Donkey 3 Mono into a duo pram in no time, with the children sitting or lying next to each other. In three simple clicks, there is space for two children. Whether you want to have your baby and toddler next to each other or are going out with your twins – the Bugaboo Donkey 3 is the best choice for you and your family. The Bugaboo Donkey 3 Duo and Twin fit through most standard doors and have large wheels, so it does not matter what surface you find yourself on.
Bugaboo Lynx
The essential multi-terrain pram The Bugaboo Lynx is packed with useful features, making a visit to a store as comfortable for you and your child as a walk in nature. This pram is always ready to go, and, because it is collapsible in one piece and lightweight, you can carry it effortlessly up and down the stairs and easily lift it in and out of your car. Thanks to the lightweight construction, it is easy to carry a comfortable little passenger, with all your belongings in the large luggage basket under the seat. Even when it is packed full, you can stroll smoothly over bumpy sandy paths or through busy streets.
Bugaboo Cameleon 3 plus
The iconic pram From our rigorous testing to the use of durable materials, the Bugaboo Cameleon 3 plus is designed for everyday use and offers just that little bit of extra. You can use it for your own children and then pass it on to family or friends; this pram will last for years. With the reversible chair, you let your child look at you or the world, according to his or her mood. In addition, the chair is adjustable, so that your child can admire the surroundings upright, recline to rest or lie down completely for a nap. For over a decade, families have been going on adventures with this original pram, which is still popular thanks to its versatility and ease of use.
Bugaboo Ant
The most versatile ultra-compact pram The Bugaboo Ant is an ultra-compact pram with great benefits, offering versatility and ease of use for you and your family. Thanks to the lightweight frame, you can easily manoeuvre, and with the height-adjustable chair, you can let your child look at you or at the world in no time. Pushing and steering have never been so nice, and you can use it from day one. The Bugaboo Ant folds to a very compact package. Easy to store, in small places or in a luggage compartment above your head where you could normally only store a bag.
Bugaboo Bee 6
The comfortable pram for the city Your daily walks become magical discovery adventures for your baby with the fast and smooth Bugaboo Bee 6. Thanks to the compact and comfortable design, walks are more fun than ever for newborn babies and toddlers. The Bee 6 can be easily folded up with one hand, so that you can carry your child down the stairs with your other arm. Thanks to the integrated stand, you can easily put the pram away in a corridor or next to a table. And thanks to its compact size, you can quickly get in and out of public transport. This pram is the perfect choice for busy city life.
Bugaboo  Turtle Air by Nuna
The car seat that is light, effortless and safe The Bugaboo Turtle Air by Nuna is the car seat that you effortlessly attach to your pram from the car and vice versa. Light, effortless and safe: everything you need when you head out. Combine the Bugaboo Turtle Air with your favourite Bugaboo pram. With the matching adapters, you can attach the car seat effortlessly, so you can head out with your new family hassle-free. Also in terms of appearance, the chair fits perfectly with your Bugaboo pram.
Bugaboo Stardust
The on-the-go cot that makes sleeping and playing simple Meet the revolutionary Bugaboo Stardust. Thanks to the all-in-one design and the integrated mattress, you can fold it out in 1 second. Sleeping and playing have never been so easy and fun. The fold-out camping bed has a mattress that you can set at two heights, ideal for newborn babies and children who are a bit taller. Adjust the height with the zipper and you can lift your newborn baby out of the cot without bending far over. The durable, high-quality materials without chemicals and the breathable mesh provide optimal comfort and improved airflow.